Tag Archives: cesium
LOS ANGELES, Calif. – Across the vast Pacific, the mighty bluefin tuna carried radioactive contamination that leaked from Japan's crippled nuclear plant to the shores of the United States 6,000 miles (9,650 kilometres) away — the first time a huge migrating fish has been shown to carry radioactivity such a distance.
"We were frankly kind of startled," said Nicholas Fisher, one of the researchers reporting the findings online Monday in the Proceedings of the National Academy of Sciences.
The levels of radioactive cesium were 10 times higher than the amount measured in tuna off the California coast in previous years. But even so, that's still far below safe-to-eat limits set by the U.S. and Japanese governments.
Previously, smaller fish and plankton were found with elevated levels of radiation in Japanese waters after a magnitude-9 earthquake in March 2011 triggered a tsunami that badly damaged the Fukushima Dai-ichi reactors.
But scientists did not expect the nuclear fallout to linger in huge fish that sail the world because such fish can metabolize and shed radioactive substances.
One of the largest and speediest fish, Pacific bluefin tuna can grow to 10 feet (3 metres) and weigh more than 1,000 pounds (450 kilograms). They spawn off the Japan coast and swim east at breakneck speed to school in waters off California and the tip of Baja California, Mexico.
Five months after the Fukushima disaster, Fisher of Stony Brook University in New York and a team decided to test Pacific bluefin that were caught off the coast of San Diego. To their surprise, tissue samples from all 15 tuna captured contained levels of two radioactive substances — ceisum-134 and cesium-137 — that were higher than in previous catches.
To rule out the possibility that the radiation was carried by ocean currents or deposited in the sea through the atmosphere, the team also analyzed yellowfin tuna, found in the eastern Pacific, and bluefin that migrated to Southern California before the nuclear crisis. They found no trace of cesium-134 and only background levels of cesium-137 left over from nuclear weapons testing in the 1960s.
The results "are unequivocal. Fukushima was the source," said Ken Buesseler of the Woods Hole Oceanographic Institution, who had no role in the research.
Bluefin tuna absorbed radioactive cesium from swimming in contaminated waters and feeding on contaminated prey such as krill and squid, the scientists said. As the predators made the journey east, they shed some of the radiation through metabolism and as they grew larger. Even so, they weren't able to completely flush out all the contamination from their system.
"That's a big ocean. To swim across it and still retain these radionuclides is pretty amazing," Fisher said.
Pacific bluefin tuna are prized in Japan where a thin slice of the tender red meat prepared as sushi can fetch $24 per piece at top Tokyo restaurants. Japanese consume 80 per cent of the world's Pacific and Atlantic bluefin tuna.
The real test of how radioactivity affects tuna populations comes this summer when researchers planned to repeat the study with a larger number of samples. Bluefin tuna that journeyed last year were exposed to radiation for about a month. The upcoming travellers have been swimming in radioactive waters for a longer period. How this will affect concentrations of contamination remains to be seen.
Now that scientists know that bluefin tuna can transport radiation, they also want to track the movements of other migratory species including sea turtles, sharks and seabirds.
Six fire crew members were injured while trying to quell a massive blaze that engulfed the nuclear-powered submarine USS Miami. The sub was being serviced at a shipyard in New Hampshire, just next to the city of Portsmouth.
­Crews from at least three states worked for six hours at the Portsmouth Naval Shipyard, but only just managed to stop the fire from spreading.
Workers from the dry docks where the submarine was maintained, had to be evacuated when its living quarters turned into a scorching inferno on Wednesday evening.
Four of the six firefighters injured have received treatment, shipyard officials reported.
The fire broke out in the forward compartment of the submarine, where the ship's living quarters and command and control center are located.
US Navy handout of the USS Miami submarine docked in Portsmouth (Reuters / Handout)
The sub's reactor in the rear part of the vessel was not affected and no radiation leak was detected, authorities insist. It was not operating at the time the fire started.
The nuclear reactor "remains in a safe and stable condition, as it has been since this event occurred," shipyard spokesman Capt. Bryant Fuller said.
He added no weapons are onboard the submarine.
The USS Miami is a Los Angeles-Class attack sub that was launched in 1988 and commissioned. It has been in dry dock since March 1 for maintenance and upgrades.
Portsmouth Naval Shipyard is located on an island in Kittery, a town next to Portsmouth, which has a population of more than 20 thousand.
­
­
­
Fukushima Daiichi Reactor building 4 with its exposed fuel pool.
Chris Canine – who has 15 years experience as a health physics technician, chemist and radiation safety instructor – told Energy News that if number 4 reactor fuel pool at Fukushima collapses, Japan will be evacuated.
He did not elaborate on how such a logistical nightmare would be accomplished.
Canine worked at Fukushima in the late 1970s and has also worked at over twenty nuclear plants in the United States, Japan and Mexico.
He wrote:
There are several reasons why I believe the country will be evacuated if the #4 SFP collapses. The amount of radioactive material in the fuel pool dwarfs the total amount at Chernobyl by a factor of 5 to 10. Chernobyl's core was still mostly contained in a building (although heavily damaged), and most of the radioactive material melted downward and became lava like. If #4 SFP collapses it will be lying on the completely open ground, probably going critical on and off in portions of the pile for years. The dose rate from this pile will make dropping sand or anything from the air much more lethal than anything at Chernobyl. And probably impossible. The entire site at Fukushima will be uninhabitable and unworkable because of the dose rate coming from this pile of fuel. That means there will be no control of the other fuel pools, and we could lose control of them.

Nuclear experts will soft sell the ramifications because that is how the industry works. When the experts "have concerns" about the situation at #4 that means they are pooping their pants. My experience at Fukushima was 30 years ago. I worked in the industry for about 15 years as a health physics technician. I was also referred to as a "nuclear gypsy" because I traveled from plant to plant working outages. That meant I was always in the middle of the hottest jobs in the heart of the plant. The engineers will talk about this part or that part of a plant, but I have been all those places wearing full gear.
In late February of this year it was reported that the Japanese government considered evacuating the country's most populous city, Tokyo.
A number of experts have called for evacuating areas of the country due to high radiation levels. Australian physician and anti-nuclear activist Dr. Helen Caldicott said in August that response by the Japanese government to the radiation danger posed by the destroyed plant has not been sufficient.
"The number of people evacuated is nothing compared to the total number of people at risk in Fukushima, which has a population of around two million or so in the prefecture," Caldicott said.
She called for the immediate evacuation of the area northwest of Fukushima where people have been exposed to massive amounts of radiation. "The levels at which the Russians evacuated Chernobyl was at 500,000 becquerels," she explained, "they have measured in these areas levels of between 3.5 and 14.5 million becquerels."
Earlier this month, the Japanese newspaper Mainichi reported that TEPCO, the plant operator, had requested government permission to abandon the stricken facility following hydrogen explosions at the number 1 and 3 reactors and this "may very well have meant evacuating all of eastern Japan."
Hundreds of Alaska Airlines flight attendants have filed a formal complaint about uniforms they suspect might be causing their skin to rash and develop lesions, and their hair to fall out. But based on the timing of the symptoms and their relation to similar symptoms in local marine life and polar bear populations, it appears as though radiation from the Fukushima Daiichi nuclear disaster may also be a potential culprit.
KING 5 Newsin Seattle, Wash., first broke the news about the "mystery illness" that has reportedly affected at least 280 flight attendants thus far. According to accounts, those afflicted by the condition say they have developed persistently itchy skin, skin lesions, and hair loss, all of which they suspect may have to do with newer flight uniforms that allegedly contain tributyl phosphate, a toxic organophosphorus compound linked to skin problems (http://www.rightdiagnosis.com).
But not everyone is convinced that the uniforms are to blame, including Alexander Higgins who recently connected the dots to discover a potential link to the Fukushima Daiichi disaster. After comparing the flight attendants' symptoms to those reported on polar bears and marine life from the northwest U.S. throughout the past year, the timing and correlation of the two is highly suspect.
Are Alaska Airlines flight attendants suffering the effects of nuclear radiation fallout?
Back in April,AlaskaPublic.orgreported that an alarming number of polar bears living in the Beaufort Sea, which is located just north of Alaska and Canada's Yukon and Northwest Territories, were turning up with skin lesions and Alopecia, which is another name for hair loss. And before the polar bears, it was apparently ice seals and walruses living in the arctic that were suffering similar symptoms (http://www.alaskapublic.org).
Upon these discoveries, it seemed as though scientists and biologists tried every which way to avoid tagging nuclear radiation as the cause, blaming viruses, bacteria, and other factors as potential causes. But all of these hypotheses have failed, under further scrutiny, to prove true, which leaves one major elephant in the room that is not being discussed: nuclear fallout from the Fukushima Daiichi disaster.
Based on the timing of when these creatures began to suffer their horrible symptoms, as well as the nature of their symptoms, it appears as though radiation from Fukushima may at least beoneof the causes of this mystery disease. And the striking similarity of the animals' symptoms to those of the Alaska Airlines flight attendants points even more heavily towards a nuclear radiation link in the latter case as well.
In any case, there is little or no chance that the mainstream media, theAssociation of Flight Attendants, or any other prominent group will dare question radiation of Fukushima as a cause. After all, the public has been deliberately left in the dark the whole time about the true severity of Fukushima radiation, which we recently reported has been far worse than what we have all been told in the official story (http://www.naturalnews.com/035847_plume-gate_Fukushima_radiation.html).
Sources for this article include:
Cesium in Fukushima Prefecture 122 Times Higher than in Belarus Evacuation Zone
Kurt Nimmo Infowars.com May 10, 2012
The Fukushima Diary reports today that Koichi Oyama, a member of the city council of Minamisoma in the prefecture of Fukushima, has measured unusually high levels of cesium 134 and 137 in the soil of his city.
Soil samples were analyzed by the Minamisoma government and found to be 122 times more contaminated than the mandatory evacuation zone in Belarus north of the Chernobyl Exclusion Zone.
Cesium causes cancer of the liver, kidneys, pancreas and other organs. It is particularly dangerous when it is in the soil and ends up in food.
In March, it was reported that cesium was detected in plankton 600 kilometers east of the Fukushima facility, according to a Japan-U.S. joint research team.
The following charts on the results of the soil were posted by the Fukushima Diary: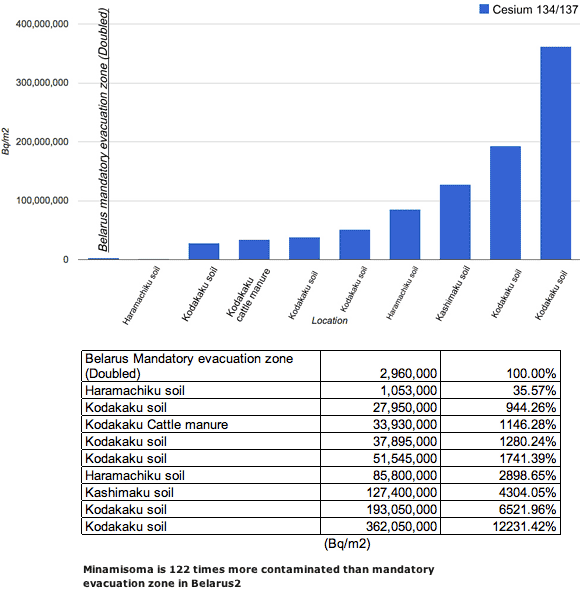 On May 4, a panel discussion on Fukushima radiological health concerns sponsored by Physicians for Social Responsibility, Human Rights Now, and Voices for Lively Spring was held in New York.
The participants emphasized "that the issues of radiation and contamination are rarely publicized in Japan and worldwide. Underreported health consequences of radiation, lax standards in food safety, and fear of the worldwide spread of radiation were the main topics of discussion. According to the press conference's sponsors and the members of the panel, the power plant is still releasing radioactive materials into the atmosphere and the ocean, exposing residents throughout Japan to unsafe levels of radiation, yet the Japanese government is doing little to inform its citizens of the dangers," reports Japan Culture NYC.
"This is something which humanity as a whole has literally never experienced. So we are going to be fighting this radiation for on an order of tens, maybe hundreds of years," explained Hiroaki Koide, the Assistant Professor of Kyoto University Research Reactor Institute.
Meanwhile, governments around the world continue to ignore the extremely perilous situation in Japan.
"Virtually nothing is happening. All the governments involved (Japan and USA, primarily) are playing a ridiculously stupid game of pretending there is no problem. The Japanese government, for its part, has decided that instead of admitted to a radiation problem, it's easier to just tell Japanese citizens they have a mental disorder if they're concerned about radiation," writes Mike Adams for Natural News.
"The U.S. government plays a similar mind game, raising the allowable levels of radiation exposure by thousands of times and then declaring Fukushima fallout to be suddenly safe," Adams continues. "Governments, in other words, are in denial mode even while Fukushima smolders and hurls us all toward irreversible global disaster."
The soil examples taken from Minamisoma are yet another indication that Fukushima is by far the worst nuclear accident in human history with far reaching if not cataclysmic potential.
And yet it remains at best a back page story for the establishment media which is more interested in celebrating Obama's comments about so-called gay marriage than reporting about an event that may wipe out not only humanity but all life on planet Earth.
This is, without question, the most important article I've ever penned, because it discusses the idea that the human race is being destroyed in the name of science.
Stopping these "scientists" from destroying our world and our civilization must become our top priority if we hope to survive.
The entire Northern hemisphere is now imminently threatened by a massive, "global killer" radiation release from failing Fukushima reactor No. 4. (http://www.naturalnews.com/035789_Fukushima_Cesium-137_Plume-Gate.htm…). Our world is right now just one earthquake away from a radiological apocalypse, and we were put into this position by scientists who promised us that nuclear power would be safe and inexpensive.
Even as we live under the immediate threat of Cesium-137-induced radiological extinction, another group of genetic scientists threatens the future of our world with self-replicating genetic pollution. These scientists work for Monsanto, Dupont and other biotech firms that have compromised the future of life on Earth in order to seek their own selfish profits. Bill Gates and all the others who have promoted GMOs and allowed them to be unleashed into our world are guilty of nothing less than crimes against both the human race and nature itself.They are a threat to the continuation of life on Earth and must be stopped.
In the realm of human biology, our very existence is now being widely threatened bytoxic vaccines. Always promoted in the name of "science," these vaccines actually cause severe neurological damage and widespread infertility, compromising the ability of members of the human race to reproduce.
And in terms of our global food supply, the accelerating collapse of the honey bees is now solidly linked to the widespread use of chemical pesticides manufactured by pharmaceutical companies (http://www.naturalnews.com/034678_honey_bees_colony_collapse_pesticid…). These pesticides, of course, are always promoted in the name of "science!" It's better living through chemistry, remember?
In fact, if you take an honest look at what threatens our civilization and our planet today, it's always something done in the name of science!
Death by science
• Toxic pesticides that kill the soils and rivers? "Science!"
• Toxic chemical medications that kill humans and pollute downstream waters? "Scientific!"
• The mass poisoning of the population with a toxic combination of industrial waste products called "fluoride?" It's all done for "science!"
• Nuclear bombs that have already decimated civilian populations? "Science!"
• Mammograms and other medical imaging devices that actuallycausecancer? "Scientific!"
• Chemotherapy poisons, "preventive" mastectomies, cancer radiation treatments? It's all "scientific" of course.
• The mass mercury poisoning of children through dental amalgams? They call it "science-based dentistry!"
What's clear from all this is that the human race is being murdered in the name of science.
But underneath that realization is an even more profound one: Much of the so-called "science" is really just fraudulent science that's twisted, distorted and quacked up by greed-driven corporations.
Real science is the quest for understanding, not the quest for profit
Real science is a good thing, as it is based on the quest for knowledge. But today, there's not much real science being conducted anymore. Most of what takes place iscorporate-driven sciencefor the purpose of gaining power and profits.
In medicine, for example, the search for new drugs is not about helping humanity; it's about helping quarterly profits. But you already knew that. Only the most naive individuals today still believe Big Pharma cares about human beings.
In the world of GMOs, it's not about actually "feeding the world" as is ridiculously claimed by its corrupt, criminal pushers; it's actually about "owning the world" and using food as a weapon against the People of the world. He who controls the food supply eventually controls everything. Monsanto is hell bent on world domination, not world nourishment.
Vaccines, for their part, aren't about actually preventing disease and enhancing the health of the public. Infectious disease prevention could be easily accomplished through sanitation improvements and low-cost vitamin D supplementation. Vaccines are really about two things: 1) Population control, 2) Repeat business for the drug industry due to all the vaccine damage caused by inoculations. (Vaccines damage the liver, kidneys, brain and intestines, among other organs.)
The "science" practiced today is a science of domination and control. It is almost never carried out for humanitarian purposes to benefit humankind. Even the entire intellectual property "ownership" system of patents and trademarks is set up to grant corporate monopolies over innovation, thereby denying the People access to such innovations. Intellectual property laws have been twisted and exploited by corporate giants to hijack the innovation process and use it to crush competition. All corporations ultimately want a global monopoly over their particular industry sectors.
Universities, which once conducted research to benefit humankind, now use taxpayer money to develop patentable chemicals that are then licensed to drug companies (or pesticide companies) in exchange for royalties that enrich the university.
As a result of such trends, "science" has come to mean corruption, dishonesty, greed and death. "Scientists" — the people who practice such science — are death engineers whose innovations may deliver hyped-up short-term benefits, but they often ultimately lead to long-term death and destruction. Roundup herbicide, for example, kills crop soils and encourages the development of pesticide-resistant "superweeds." In the terrain of human biology, much the same ramification of death and destruction is happening with the widespread abuse of antibiotics and the alarming rise of MRSA and other "superbugs."
Such "scientific" innovations were, of course, developed by well-meaning people who didn't mean to cause widespread crop failures and antibiotic-resistant staph infections, but in doing so they only became experts in paving the road to Hell with good intentions.
Science is killing us. As a race, we are committing suicide by allowing science to dominate our medicine, agriculture and military industries. To the degree that we allow scientists to unleash their dangerous experiments onto the world without legitimate testing — and no, flu shot vaccines are never scientifically tested for long-term safety — we only accelerate the digging of our own graves. If we don't learn to restrain the blind ambitions of arrogant scientists who are all too easily enticed by the chance to roll the dice in their "let's play God" games, the blind pursuit of science without wisdom will only lead to our total destruction.
Because next we can count on the rise of the robot drones in the name of science — a new race of Terminator machines (unmanned AI drones) with the capability to mindlessly unleash bombs and bullets on civilian populations. Such drones will be developed in the name of "science," of course, with all the predictable ego-driven fantasies of their geek-headed inventors who, with all their superior intellect, have still failed to study human history.
Even if the drones don't get us, nanotechnology may yet spell our demise. Scientists are already running dangerous experiments with nanotechnology, and if just one such experiment results in a self-replicating nanotech "grey goo," our entire world could be inescapably devoured by self-replicating microscopic machines that make GMOs seem tame by comparison. (http://en.wikipedia.org/wiki/Grey_goo)
If we are to survive, we must force science to be bound by the Precautionary Principle
If we are to survive the endless greed, arrogance and ambition of today's scientists — whose actions more closely resemble little children with flamethrowers than mature, adult individuals — we must force science to abide bythe Precautionary Principle.
The Precautionary Principle means that when we experiment with nature,we force ourselves to err on the side of caution, not profits. In practical terms, that means we should never unleash self-replicating genetic programs (GMOs) into the open world and let experimental seeds get blown across the continent by the wind.
We should never build highly radioactive nuclear power facilities that require power to run pumps in order to avoid a nuclear meltdown. Such facilities must be designed to run in agrid-down, self-shutdownformat that defaults to an unmanned state of non-criticality.
We should never unleash synthetic chemicals across the world's crops and soils to kill insects, not knowing the long-term ramifications of such neurotoxins being introduced into the ecosystem.
The Precautionary Principle recognizes that human civilization is fragile, and science-sounding experiments can run amok in ways that simply cannot be anticipated by even the most brilliant and well-intentioned human minds.
Technology without wisdom is suicide
In the name of science, humanity has developed remarkable technologies. But as a species, humankind operates as infants in terms of wisdom and maturity. We are worse than children with flamethrowers –we are children with nukes!
A typical top-level scientist working for a corporation or a government body is ethically under-developed, lacking wisdom and perspective. They may be geniuses in their absurdly narrow realms of technical expertise, but they have no understanding of the importance ofrestraining the application of scientific pursuitsin the real world. Even now, scientists working at the Large Hadron Collider near Geneva are playing God with the universe, attempting to discover what they ridiculously call new "particles" even though such particles are not even particles in the first place. (http://www.naturalnews.com/025486_article_science_WHO.html)
In their quest for what they claim to be scientific knowledge, they are playing a dangerous game with our world, risking the very small but catastrophically fatal chance that their experiment might create a planet-consuming black hole that devours our world. Sound like science fiction? Most conventional scientists dismiss such ideas as pure nonsense. But their colleagues also told us that nuclear power was safe; that GMOs are safe; that pesticides are safe; that fluoride is safe; that vaccines are safe; and on and on. If there's one thing we can scientifically establish as truth in our world today, it's that scientists vastly and naively overestimate the safety of their own experiments,often in ways that cause widespread harm, death or destruction to innocent people around them.
Scientists are a danger to our world, in other words. And they need to be immediately restrained before they utterly destroy the very conditions on our planet that make human life possible.
History has taught us that scientists have very little ability to anticipate the long-term effects of their present-day actions. The nature of the universe is more complex than even the most brilliant scientist can imagine, it turns out, and when they start to play God with the natural world, unexpected things can and do occur. Murphy was an optimist, as the saying goes. Not only will things go wrong if they can go wrong; they will go wrong in catastrophic ways that simply cannot be anticipated.
The sixth mass extinction on our planet may be caused by science itself
There have been five mass extinction events on our planet, the most recent being theCretaceous-Paleogene extinction event(http://en.wikipedia.org/wiki/Cretaceous%E2%80%93Paleogene_extinction_…).
The sixth such event may be caused by science itself, either with a global radiological release, a runaway genetic pollution event, a nanotechnology disaster, an AI rise to power, or something far more sinister that we can't even anticipate. We already stand on the verge of being inundated with radiation from Fukushima — a precarious situation upon which "the fate of the world" now rests. What other great threats to our survival have been committed in the name of science?
Until the Wild West, "anything goes" approach to science as practiced today is held in check by a sense of self preservation, the human race will remain at grave risk of becoming an inadvertent casualty of well-intentioned science gone terribly wrong.
Let us take steps now to halt the life-threatening science that has put us all at risk and pull ourselves back from the brink of scientific suicide.
The top ten "scientific" projects threatening the survival of the human race right now
#1) Nuclear power (Fukushima in particular) #2) GMOs (self-replicating genetic pollution) #3) Nanotechnology (self-replicating microscopic machines) #4) Bioweapons (self-replicating microscopic weapons) #5) Atmospheric experiments (HAARP and high-altitude spraying) #6) Artificial Intelligence (AI, when coupled with killer drone hardware) #7) Particle accelerator physics experiments (Large Hadron Collider) #8) Pollinator disruption chemicals (synthetic pesticides that destroy honey bee colonies) #9) Nuclear weapons #10) Weaponized vaccines (live cross-species viral material being injected into human targets)
The mainstream media and the federal government will soon have the blood of the world on it's hands.
Radiation from the Fukushima Nuclear Plant disaster in Japan is now actively in the ecosystem all along the North American west coast… even the sea weed is now radiated.  The Vancouver Sun reported one year ago that the seaweed tested from waters off the coast of British Columbia were 4 times the amount considered safe.  No further test results were released after the initial report.
The governments of the United States and Canada are not conducting tests for radioactivity – at least not to the knowledge of the public.  Secretary of State Hillary Clinton has agreed to continue purchasing seafood from Japan, despite the fact that the food is not being tested for radioactive contamination.
Last November, independent testing in Japan showed 65 per cent of the catches tested positive for cesium (a radioactive material).  Instead of refusing to purchase the poisoned fish, food safety agencies in both the United States and Canada have simply raised the "acceptable level of radiation."  We can't go offending the Japanese after promising to buy their tainted goods, now can we?
After the North American governments refused to fund testing, oceanographer Ken Buesseler, a senior scientist at the non-profit Woods Hole Oceanographic Institution in Woods Hole, Mass, along with Nicholas Fisher, a marine sciences professor at the State University of New York at Stony Brook, and other concerned scientists, managed to secure private funding for a Pacific research voyage.  The results?
Cesium levels in the Pacific had initially gone up an astonishing 45 million times above pre-accident levels. The levels then declined rapidly for a while, but after that, they unexpectedly levelled off.In July, cesium levels stopped declining and remained stuck at 10,000 times above pre-accident levels.This means the ocean isn't diluting the radiation as expected. If it had been, cesium levels would have kept falling.The finding suggests that radiation is still being released into the ocean long after the accident in March, 2011.
Less than two weeks after the tsunami and subsequent nuclear disaster, Michael Kane, an investigative journalist, reported, "In the wake of the continuing nuclear tragedy in Japan, the United States government is still moving quickly to increase the amounts of radiation the population can "safely" absorb by raising the safe zone for exposure to levels designed to protect the government and nuclear industry more than human life."
The radiation has absolutely reached the shores of North America.  Water samples from across the continent have tested positive for unsafe levels of radioactivity.  The levels exceeded federal drinking water thresholds, known as maximum contaminant levels, or MCL, by as much as 181 times."This means that the complete ecosystem of the Pacific Ocean is now poisoned with radiation and we aren't being warned.
Samples of milk taken across the United States have shown radiation at levels 2000 percent higher than EPA maximums. The reason that milk is so significant is that it it representative of the entire food supply.  According to an article published on Natural News, "Cows consume grass and are exposed to the same elements as food crops and water supplies. In other words, when cows' milk starts testing positive for high levels of radioactive elements, this is indicative of radioactive contamination of the entire food supply."
The GMO Food and Drug Pushers Administration and the Environmental Deception Protection Agency, instead of refusing to prohibit the sale of tainted foods and mandatory testing of foods produced and harvested from the Pacific Coast, have simply raised the "acceptable levels"  of radioactive material in foods.
Clearly, the "it's-all-for-your-own-good" government will not protect us, or even inform us of the dangers so we can protect ourselves, because it might dip into the pockets of the global elite, the nuclear energy industry, and the food industries.  There is big money behind this cover-up. Refusing to purchase and consume their tainted goods is the best way to fight back, while keeping our families safe and healthy.
How can we protect ourselves? First, be aware of what items are likely to be highly tainted.
1.)  SEAFOOD:  Question the origin of ALL seafood.  Fish and crustaceans from the Pacific Ocean should all be considered to be poisoned with radiation.
2.)  WATER:  The rainfall and snowfall are all radiated.  Do not drink any water that has not been filtered.   The tap water that flows from your faucet has NOT been treated to rid it of radioactive particles. A recent report from the NY Times stated, "A rooftop water monitoring program managed by UC Berkeley's Department of Nuclear Engineering detected substantial spikes in rain-borne iodine-131 during torrential downpours …
3.) DAIRY PRODUCTS:  Milk and milk products from the West Coast states currently have the highest levels of radiation in North America.
4.)  PRODUCE:  Leafy Vegetables, Wines, Tomatoes, Strawberries….all produce from California or any other West Coast State are also likely to be tainted.
5.)  MEAT:  If a animal eats any leafy vegetable all along the West Coast, that animal has consumed radiation, and is poisoned.  This is any animal from cows, pigs, goats, sheep to wild deer and other game.
If you eat the above foods from areas with high radiation levels, you are eating radiation and feeding it to your children. Slowly the radiation levels within your body will build up.  This is PERMANENT.
Infant mortality rates across the United States have increased by more than 35% since the nuclear disaster, according to a court statement by Dr. with independent scientist Leuren Moret, MA, PhD.  A study published in The International Journal of Medicine indicates that more than 20,000 deaths right here in North America can be directly attributed to the release of radioactive material from Fukushima.
Radioactive isotopes of the type released from Fukushima have a half life of 30,000 years.  This means that we must permanently change the way we prepare our food.
Wash your food with soap and rinse it in filtered water.
Be aware of the origins of your vegetables, fish, game and seafood.
Keep abreast of radiation levels to help monitor where your food is acquired.
Use only filtered water for drinking, cooking and ice.       
Co-author: NinaO
Sources:
TAKOMA PARK, MD – May 4 – Beyond Nuclear today joined with concerned Japanese citizen groups and US Senator, Ron Wyden (D-OR), urging that swift international action be taken to prevent a catastrophic high-level radioactive waste fire at the precarious Unit 4 reactor building at the Fukushima Daiichi nuclear power plant in Japan.
Unit 4 is leaning and could topple if hit with another earthquake or tsunami, resulting in a deadly high-level radioactive waste fire. The ability for the unit to withstand another seismic event is rated at zero.
Today, a coalition of concerned Japanese citizens is urging United Nations Secretary General Ban-Ki Moon and Japanese Prime Minister Yoshihiko Noda, to properly inform the Japanese people of the perilous situation at Fukushima Daiichi, and to work together to prevent what would be an irreversible disaster that would release huge amounts of lethal radiation, dwarfing the scale of the original disaster.
Since the nuclear catastrophe began in March 2011, Beyond Nuclear has called attention to the ongoing risks of the damaged Fukushima Daiichi high-level radioactive waste storage pools. A similar danger persists at the 23 identical GE Mark I boiling water reactors still operating in the US.
"If the cooling water supply is lost to the high-level radioactive waste storage pool in Unit 4, it could be just a matter of hours before the irradiated nuclear fuel is on fire," warned Kevin Kamps, radioactive waste specialist at Beyond Nuclear. "A fire in the Unit 4 high-level radioactive waste storage pool could release up to eight times more hazardous cesium-137 than the Chernobyl reactor explosion. That in turn would mean the site would have to be evacuated, risking the potential for all seven high-level radioactive waste storage pools at the site to ignite. If that happened, Fukushima Daiichi would release 85 times the levels of cesium released by Chernobyl, potentially forcing an evacuation, and permanent condemnation, of hundreds to thousands of square miles," Kamps added.
Cesium-137 fallout from the Fukushima nuclear catastrophe has already been measured by the US Geological Survey across the US, although the agency has downplayed the risks, despite the position long held by the National Academy of Sciences that there is no safe dose of radiation.
US Senator Ron Wyden (D-OR) visited the stricken Fukushima site several weeks ago and was particularly alarmed by the slow response of Fukushima Daiichi utility owner, Tokyo Electric Power Company (TEPCO), which has a several year-long plan to secure Unit 4 and its fuel pool, and urged swifter action.
"Loss of containment in any of these pools, especially the pool at Unit 4, which has the highest inventory of hottest fuel, could result in an even greater release of radiation than the initial incident," Wyden said.
The letter to UN Secretary General Ban-Ki Moon and Japanese Prime Minister Yoshihiko Noda, initiated by Japanese environmental groups Green Action Japan and Shut Tomari, demands that Japan ask for international support to avert disaster. The groups are urging organizations around the world to sign on.
"Given the fact that collapse of this pool could potentially lead to catastrophic consequences with worldwide implications, what the Japanese government should be doing as a responsible member of the international community is to avoid any further disaster by mobilizing all the wisdom and the means available in order to stabilize this pool," the letter states.
"It is clearly evident that the Fukushima Daiichi Unit 4 spent nuclear fuel pool is no longer a Japanese issue but an international issue with potentially serious consequences," the letter continues. "Therefore, it is imperative for the Japanese government and the international community to work together on this crisis before it becomes too late. We are appealing to the United Nations to help Japan and the planet in order to prevent the irreversible consequences of a catastrophe that could affect generations to come. Specifically, the Japanese people are asking that the UN organize a Nuclear Security Summit to take up the crucial problem of the Fukushima Daiichi Unit 4 spent nuclear fuel pool. In addition, the UN should establish an independent assessment team on Fukushima Daiichi Unit 4 and coordinate international assistance in order to stabilize the unit's spent nuclear fuel pool and prevent radiological consequences with potentially catastrophic consequences."
Organizations around the world are urged to sign on to the letter by emailing their support to info@greenaction-japan.org. The full text of the letter plus endorsements can be read at: http://wp.me/p1FMPy-B6
###
  Beyond Nuclear aims to educate and activate the public about the connections between nuclear power and nuclear weapons and the need to abandon both to safeguard our future. Beyond Nuclear advocates for an energy future that is sustainable, benign and democratic.
After visiting Fukushima, Senator Ron Wyden warned that the situation was worse than reported … andurged Japan to accept international help to stabilize dangerous spent fuel pools.
An international coalition of nuclear scientists and non-profit groups are calling on the U.N. to coordinate a multi-national effort to stabilize the fuel pools. And see this.
Fuel pool number 4 is, indeed, the top short-term threat facing humanity.
Anti-nuclear physician Dr. Helen Caldicott says that if fuel pool 4 collapses, she will evacuate her family from Boston and move them to the Southern Hemisphere. This is an especially dramatic statement given that the West Coast is much more directly in the path of Fukushima radiation than the East Coast.
And nuclear expert Arnie Gundersen recently said (at 25:00):
There's more cesium in that [Unit 4] fuel pool than in all 800 nuclear bombs exploded above ground…

But of course it would happen all at once.

It would certainly destroy Japan as a functioning country…

Move south of the equator if that ever happened, I think that's probably the lesson there.
This week, Wyden said that the spent fuel is a national security threat to the U.S.:
AlterNet asked Sen. Wyden if he considers the spent fuel at Fukushima Daiichi a national security threat.

In a statement released by his office, Wyden replied, "The radiation caused by the failure of the spent fuel pools in the event of another earthquake could reach the West Coast within days. That absolutely makes the safe containment and protection of this spent fuel a security issue for the United States."

[Robert Alvarez – a nuclear expert and a former special assistant to the United States Secretary of Energy] agrees, saying, "My major concern is that this effort to get that spent fuel out of there is not something you should be doing casually and taking your time on."

Yet Tepco's current plans are to hold the majority of this spent fuel onsite for years in the same elevated, uncontained storage pools, only transferring some of the fuel into more secure, hardened dry casks when the common pool reaches capacity.
Government Agencies Underplaying Risk … So No One Has to Do Anything Different
Why are American nuclear authorities ignoring this threat?
Well, they are totally captured by the nuclear industry, and:
Nuclear waste experts … charge that the NRC is letting this threat [of the Fukushima fuel pools] fester because acknowledging it would call into question safety at dozens of identically designed nuclear power plants around the U.S., which contain exceedingly higher volumes of spent fuel in similar elevated pools outside of reinforced containment.

***

In an interview with AlterNet, Alvarez … said that the Japanese government, Tepco and the U.S. NRC are reluctant to say anything publicly about the spent fuel threat because "there is a tendency to want to provide reassurance that everything is fine."

***

"The U.S. government right now is engaged in its own kabuki theatre to protect the U.S. industry from the real costs of the lessons at Fukushima," Gunter said. "The NRC and its champions in the White House and on Capitol Hill are looking to obfuscate the real threats and the necessary policy changes to address the risk."

There are 31 G.E. Mark I and Mark II boiling water reactors (BRWs) in the U.S., the type used at Fukushima. All of these reactors, which comprise just under a third of all nuclear reactors in the U.S., store their spent fuel in elevated pools located outside the primary, or reinforced, containment that protects the reactor core. Thus, the outside structure, the building ostensibly protecting the storage pools, is much weaker, in most cases about as sturdy, experts describe in interviews with AlterNet, as a structure one would find housing a car dealership or a Wal-Mart.
Remember that American nuclear power plants are storing much more nuclear fuel rods in highly-vulnerable pools than even Fukushima.
The NRC and Japanese claim that fuel pool 4 has been stabilized, but:
Nuclear experts, including Arnie Gundersen, a former nuclear industry senior vice president who coordinated projects at 70 U.S. nuclear power plants, and warned days after the disaster at Fukushima last year of a "Chernobyl on steroids" if the spent fuel pools were to ignite, strongly disagreed with this assessment.

"It is true that in May and June the floor of the U4 SFP [spent fuel pool] was 'reinforced,' but not as strong as it was originally," Gundersen noted in an email to AlterNet. "The entire building however has not been reinforced and is damaged by the explosion in both 4 and 3. So structurally U4 is not as strong as its original design required."

***

Alvarez said that even if the unit 4 structure has been tentatively stabilized, it doesn't change the fact "it sits in a structurally damaged building, is about 100 feet above the ground and is exposed to the atmosphere, in a high-consequence earthquake zone."

He also said that the urgency of the situation is underscored by the ongoing seismic activity around northeast Japan, in which 13 earthquakes of magnitude 4.0 to 5.7 haveoccurred off the northeast coast of Honshu between April 14 and April 17.

"This has been the norm since 3/11/11 and larger quakes are expected closer to the power plant," Alvarez added.
(Last year's big earthquake made a huge earthquake close to Fukushima more likely.)
Boils Down to Money
Of course, it all boils down to money … just like every other crisis the world faces today.
Nuclear power can be safe, or it can be cheap … but it can't be both. For example, we've previouslynoted:
Apologists for the nuclear power industry pretend there are no better alternatives, so we just have to suck it up and suffer through the Japanese nuclear crisis.

But this is wholly illogical. The truth is that we can store spent fuel rods in dry cask storage, which is much safer than the spent fuel rod pools used in Fukushima and many American reactors.

As the Nation pointed out:

Short of closing plants, there is a fairly reliable solution to the problem of spent fuel rods. It is called "dry cask storage."

***

But there is a problem with dry cask storage: it costs money….
Experts say the only near-term answer to better protect our nation's existing spent nuclear fuel is dry cask storage. But there's one catch: the nuclear industry doesn't want to incur the expense, which is about $1 million per cask.

"So now they're stuck," said Alvarez, "The NRC has made this policy decision, which the industry is very violently opposed to changing because it saves them a ton of money. And if they have to go to dry hardened storage onsite, they're going to have to fork over several hundred million dollars per reactor to do this."

He also pointed out that the contents of the nine dry casks at the Fukushima Daiichi site were undamaged by the disaster.

"Nobody paid much attention to that fact," Alvarez said. "I've never seen anybody at Tepco or anyone [at the NRC or in the nuclear industry] saying, 'Well, thank god for the dry casks. They were untouched.' They don't say a word about it."
Get it?   The Japanese and American governments are playing Russian roulette with the fuel pools at Fukushima to save nuclear companies from having to spend a couple of million dollars to safely store spent fuel in dry casks.
EXSKF May 5, 2012
During the press conference in New York after the lecture on the status of Fukushima Nuclear Power Plant accident and radiation contamination in Japan, Dr. Koide of Kyoto University repeated his mantra (or curse, to many Japanese) that the food contaminated with radioactive materials from Fukushima should be consumed by adults who have allowed the nuclear power plants.
From the Japanese transcript by Portirland blog (5/5/2012):
クリーンな食べ物はない。

There is no clean food.

残念ながら福島の事故は起きてしまい、全地球に汚染を広げてしまっている。そのため、クリーンとか安全という食べ物というものはありません。

Sadly, the Fukushima accident happened, and has spread contamination throughout the world. So there is no food that is clean or safe.

ただし、猛烈に汚れている食べ物から比較的安全な食べ物まで、連続的に分布している。それをどのように受け入れるかが問題。

But there is a continuous variety of food from extremely contaminated food to relatively safe food. The issue is how to accept [allocate] such food.

猛烈な汚染食品は原子力を進めていた方々に食べてもらう。東電幹部、原子力を進めてきた政治家や、学者に食べてもらう。そういう仕組みを作りたい。

Extremely contaminated food should be eaten by people who have promoted nuclear power. TEPCO top management, and politicians and scholars who have promoted nuclear power. I would like to build such a system.

後は、原子力をここまで許してきてしまった大人たちに、汚染された食べ物を食べてもらって、子どもたちに汚染されていないものを食べさせてあげる。

The rest of the contaminated food should be eaten by adults, who have allowed nuclear power to this extent, so that the non-contaminated food goes to children.

ただしそれを実現するためには、どの食べ物がどれだけ汚染されているのかを正確に検査する必要がある。その情報を提供するように東京電力に言っている

However, in order to achieve that, it is necessary to accurately measure the contamination levels. I've been telling TEPCO to provide that information.

その作業をしようとすると、膨大な作業になる。多くのお米・野菜・魚をきちんと検査することをしないと子どもたちに食べさせることはできない。

To do that, it would be a huge task. But unless we inspect many samples of rice, vegetables, fish, we can't let children eat them.
Well, I wonder how he is going to enforce his system. Some people have suggested some type of ID cards that will be required when purchasing food. With that system, if you are above certain age, you won't be allowed to buy "clean" food.
Koide's supporters almost always defend his position by pointing to the episode that Koide ate contaminated pastas from Italy after the Chernobyl accident because he thought he was partly responsible for the accident for having been a nuclear researcher and unable to stop nuclear power.
In the real world, Japanese children are being fed with radioactive food items in school lunches even after radioactive cesium is detected from the particular food items and even when there are safe (radiation-free) alternatives. Why? Because it is below the government-mandated safety limit. What good is testing? In the real world, mothers and fathers who want to buy clean food for their families are laughed at and even criticized for being selfish.
In such a world, Koide's insistence that adults should eat contaminated food somehow fits well. And we'll all go down…
Cesium exceeding new limit detected in 51 food items in nine prefectures
Radioactive cesium was detected in 51 food products from nine prefectures in excess of a new government-set limit in the first month since it was introduced April 1, according to data released by the health ministry Tuesday.
The limit was exceeded in 337 cases, or 2.4 percent of 13,867 food samples examined by the Health, Labor and Welfare Ministry.
Cesium exceeding the previous allowable limit of 500 becquerels per kilogram was detected in 55 cases, while the new limit of 100 becquerels was exceeded in 282 cases.
By prefecture, there were 142 cases in Fukushima, 69 in Tochigi, 41 in Ibaraki, 35 in Iwate, 32 in Miyagi, 13 in Chiba, two each in Yamagata and Gunma, and one in Kanagawa.
Mushrooms and other agricultural products containing cesium in excess of the tougher limit were involved in 178 cases, while 156 cases pertained to fishery products such as flat fish and bass. In addition, two cases involved black bear meat and one case fried "moroko" fresh water fish.
Article: http://www.japantimes.co.jp/text/nn20120502a9.html
Related News:
May 2, 2012 – NYTimes: Radiation in "small doses could actually be disproportionately worse" says report — "Doses spread out over time might be more dangerous than doses given all at once" — Renewed importance after Fukushima
The Bulletin of the Atomic Scientists is casting new light – or maybe just heat — on the murky field of sizing up the health effects of small radiation doses.
The publication's May-June issue carries seven articles and an editorial on the subject of low-dose radiation, a problem that has thus far defied scientific consensus but has assumed renewed importance since the meltdown of the Fukushima Daiichi reactors in Japan in March 2011. The accident contaminated the surrounding area, and questions persist about whether residents should be allowed to return or whether the radiation doses they would receive are too big a threat to their health.
The bulletin, known for its "doomsday clock" measuring the risk of nuclear war, pays attention to civilian nuclear power mostly in the context of whether the spread of reactor technology lays the groundwork for the spread of atomic bombs. But this month a guest editor, Jan Beyea, an environmental scientist who has opposed nuclear reactors for decades and worked on epidemiological studies at Three Mile Island, takes a hard look at the power industry.